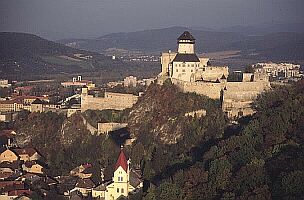 A great number of historical monuments makes the town of Trenčín highly attractive for the tourists :

Roman inscription hewn to the castle rock (from the year 179 A.D.) Maximianus expresses his thanks for the victory of emperors and the troops of the Second Auxiliary Legion, numbering 855 soldiers.

Trenčín castle ( from the 10 th - 11th cent.) - National Cultural Relic, one of the mightiest medieval complexes in Slovakia.

Roman Catholic Parish Church ( from the year 1324 ) - with its gothic, renaissance and baroque arts

Lower (Turkish) City Gate ( from the beginning of the 15th cent.). It is a six-stories tower object with a pointed Gothic arch.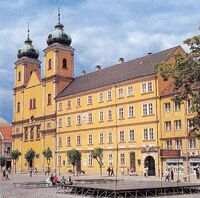 A roofed Parish stairs (from the year 1568) leads from the square toward the Parish church and facilitated fast transport of the city´s defenders to the walls by the church.

House of the city executioner and not far away gothic Carner St. Michael (from the 2nd part of the 15th cent.)

Baroque convent (from the year 1662) with sundial

Baroque Plague Column - St. Trinity Column (from the year 1712) - built by the Duke Ileshazy to commemorate of pest plague (1710)

Piarist (originally Jesuite) Church with Monastical Complex (1653 - 1657) in the early Baroque style.

Baroque County House - now Trenčín Museum (from the year 1770)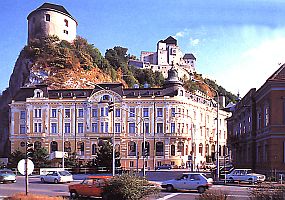 Baroque Chapel of St. Anna (from the year 1789) - in classicistic style

Evangelic Church (from the year 1794)

Complex of the burgher´s houses ( from the 19th - 20th cent. )

Hotel Tatra ( from the year 1901) - built in secessionist style by Baron Armin Popper

Jewish Synagogue ( from the year 1913 ) - neo Romantic building built near the old Synagoge.